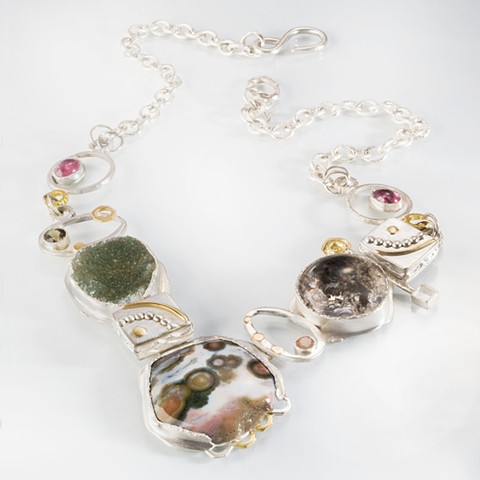 My work combines organic motifs and modern design. I use of negative and enclosed space to create one-of-a-kind pieces and collections inspired by nature, architecture, and archetypal forms. I love the natural organic and architectural shapes that have come alive in my work.
I have many loves throughout the creation process. I often start by building design elements in wax, using the art of lost-wax carving, to fashion components-geometric shapes, floral elements, ring shanks, and even toggles and findings. These pieces are cast in silver and gold.
Once cast, I manipulate the components and gemstones to build a design, and then I fabricate around those forms, using traditional fabrication and metal smithing techniques. Of course, there are many other steps involved, but carving, designing, and fabricating are critical to a unique and special piece of jewelry. Using a variety of methods allows me to create textures and movement in my designs. Each piece becomes a miniature sculpture.